PAUL LEVENTHAL: Again, it depends on what may be going on that we don't know about.
And -- and I think you have to listen carefully to what the former director of safeguards, Pierre Goldschmidt, had to say about the extent to which the Iranians made life extremely difficult for the inspectors, and the fact that inspectors are not free to go into military facilities that have been -- that have been identified by the Iranian opposition as places where material had been removed from other nuclear facilities that -- that were torn down and -- and leveled.
And I would just want to make the point that, as important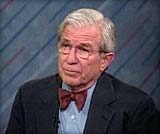 as sanctions are, it's also important for the Security Council to empower the IAEA to have the same kind of intrusive authority that it had in Iraq, because that's what it is going to take if we are to find out whether or not there is a parallel program.
And, short of that, diplomacy has its limitations, because Iran can be expected not to voluntarily disclose the facilities where they may indeed have secret weapons development, secret fissile material production facilities.
And there has been any number of disclosures, information provided by the Iranian opposition, that the IAEA has chosen not to pursue, primarily because there's no supporting evidence. And every time they raise evidence or information coming from the opposition to the Iranian authorities, the Iranian authorities go ballistic.
MARGARET WARNER: David Albright, you said earlier that they still haven't demonstrated that they really can get this up and running, this whole cascade. What do you mean by that? And do they still need the rest of the world to sell them things to do it?
DAVID ALBRIGHT: Yes.
The -- the -- they need to learn how to operate a cascade. It's a very sophisticated device. And they -- and it's hard to get them to work together without breaking. And, so, they need to...
MARGARET WARNER: You once used an analogy of a race car.
DAVID ALBRIGHT: That's right.
It's like, if you -- if you had a brand-new engine in a -- in a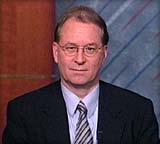 race car and you turn on that engine, that doesn't mean you're ready to go out and race with it. And, so, you just need to test it out, and make sure it works, it's not going to break down unexpectedly. And, so, they -- they need to go through a process with this cascade.
Now, the Israeli red line is when they go through that process and succeed. And it could be as early as six months or a year. And, so, that's -- for the Israelis, that's the big issue.
In terms of foreign procurement, I mean, we don't think they need any more for -- if they wanted to build 1,500 centrifuges. But, at some point, they do need more from the international community. They're actually out now purchasing items, or trying to purchase items, around the world.
And -- and there's a great effort to try to stop them, that it -- and if it's successful, it will inhibit their ability to build thousands of centrifuges. But it's not going to -- we don't think it's going to stop them from building enough centrifuges to make, let's say, one bomb a year.
MARGARET WARNER: All right, David Albright, Paul Leventhal, thank you.
PAUL LEVENTHAL: Thank you.
DAVID ALBRIGHT: Thank you.